The world of venture capital as we know it is changing. Dating back to its birth in 1957, venture capital has largely been about the repetitive cycle of raising capital from limited partners (LPs) and investing that capital in startups whom are believed will maximize returns for the LPs and venture fund. Since then, venture has remained the same for the most part, even with the introduction of Crowdfunding. This permitted individuals to invest in securities-based crowdfunding transactions subject to certain investment limits, similar to VC's, but still largely focused on the investment, n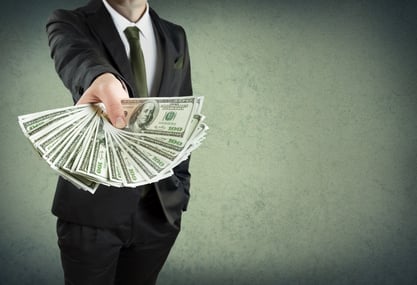 ot on the operational elements of the business.
The one thing that has changed and become more increasingly difficult for VCs is finding the right (read: the best) startups to actually invest in. The playing field has gotten larger, and more players are being added every single day. What's more, and only marginally arguable by percentage points, 75% of all startups fail - making the investment decision, carry even more weight than ever before.
So how do you reduce that risk? One of the answers is why I joined Blarney Ventures...Incorporate proven high quality, high volume lead generation programs along with sales expertise that drives revenue first and THEN invest.
Drive sales value and don't get greedy.
By focusing on really getting to know the way startups are currently operating, we're able to leverage our extensive sales and marketing experiences to focus on improving the overall operations of the company. And with such a large percentage of startups failing, we focus on the 2 key areas that reduce that risk, lead generation and sales. By proving our value and driving incremental revenue, our goal is to reduce the risk taken upfront by many of the larger VC's and concurrently enable the startups to operate with more self assuredness and a path to profitability...by that time, we're happy to participate in follow on rounds because everyone's goals and objectives are aligned with stronger confidence in the long term viability of the startup. We're not looking to the be the first investors and seek 10X+ returns, just participate in the upside as we help scale the business.
It's ok to be an operational VC.
While writing checks and financially supporting startups and entrepreneurs is part of our life, we love being operational and focusing on sales and marketing...it's our passion. So much so, we created a subsidiary, FullFunnel, whose only mission is to drive high quality, high volume leads and opportunities and ultimately close customers to accelerate revenue for our clients. We've developed a robust platform for delivering these leads/opportunities and coupled that with an experienced POD team structure(Account Director, 2 sales specialists and 1 marketing specialist) to deliver key sales, marketing and corporate results. At the end of the day, when we deliver revenue and a path to profitability, the early investors, entrepreneurs and BV wins.
Symbiotic relationship with other VC's.
We don't lead rounds. Our typical investment is between $50k-$250k and as such, we're "participating" in future rounds. This approach has allowed us to develop some deep and symbiotic relationships with some of the top tiered VC's not only in Silicon Valley but around the World. Over the course of their tenure at a venture capital firm, each partner typically invests in and manages up to 10-20 portfolio companies. By assisting with the direct operational sales and marketing arms of their portfolio companies, we're helping many of them to not only accelerate revenue but also help reduce that 75% failure rate.
Benefits All Around
The way we see it, the inclusion of an experienced sales and marketing agency to augment startups initial MVP and market product fit traction, does nothing but benefit all three parties involved. The VC receives an "insurance policy" of sorts, in the fact that the chance of the startup failing or going sideways is reduced by incorporating a proven lead gen and augmented sales team approach to increasing their portfolio companies revenues.
The startup receives an immediate injection of accelerated lead gen and revenue, into key areas of their company that typically experiences hurdles or boundaries in the early phases of startup life. Rather than investors throwing money at a startup that is more likely to fail than not, the startup is given the foundational materials for success, ensuring equal success for both parties.
The Solution Is Not A Pipe Dream
There aren't very many companies out there that take on risk mitigation for VCs, but those that do we posit are well ahead of the game.
Let's face it - the landscape for startups and VCs is growing more treacherous every year. But now, more than ever, VCs have all sorts of help to assist them in making and keeping the right decisions. Sales and marketing agencies can (and absolutely should) be part of your investment process. The goal here is simple: decrease startup failure rates from upwards of 75% to under 50%. Isn't this coin toss predictability better than the current alternative?
What would you do differently if you knew you could be more confident in your investment decision? Click below to chat with us to learn how we can help.